I recently completed overseeing the installation of a new 624 MBH Burnham steam boiler in a 9,000 sq. ft. victorian house in the Toledo area. The 1983 boiler that came before it was also a Burnham, but WAY too small and incorrectly installed with a condensate return pump. To make things better, it had a big hole in one of the sections, and was generally a mess. Also, the house was equipped with a Mouat system, and the old boiler's installer was oblivious - using a standard off-the-shelf Honeywell pressure control set for several psi. And. . . several original orifice radiator valves had been replaced with standard valves, which tipped me off that there was trouble ahead even before I saw the boiler!
Luckily the owner was amenable to doing what needed to be done to put the system back into a condition worthy of such a beautiful home. We did the demo and poured a pad ourselves, to save a couple bucks, and after (Exhaustive!) searching, found a local contractor capable of doing the job (strangely hard to find steam guys in Toledo). The boiler was equipped with a low-high-low gas train, and low and high vaporstats. I did a dropped header with cast fittings and went old-school and used Calsil covered with canvas and mud over the fittings for insulation. To fix the other problems I installed orifices (Tunstall, of course) on the radiators with the standard valves, new main vents, and an artificial waterline (the wet return had been dry). I wanted to enable using it as a vacuum/vapor system, so I used vacuum main vents and an obsessive number of gauges: A 0-16 oz. gauge for low operating pressures, a compound gauge in case we developed vacuum, and the code/factory 0-30 psi gauge that came as standard equipment (yes, I know I could have just used a 30-0-30 compound gauge, but I didn't have one).
I had a camera set up for most of the process, and for fun did it as a time-lapse. I can't say how many hours were actual consumed doing the work, as it took place over the moderate months and a couple times we paused for a week or two waiting for parts or information. But here it is, squished together for your entertainment!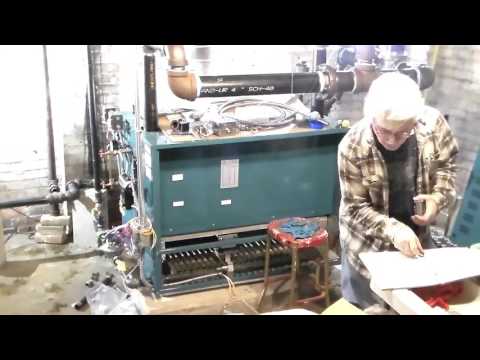 HS