Welcome! Here are the website rules, as well as some tips for using this forum.

A good read, speaking of electricity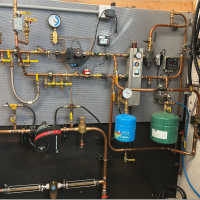 It is a well researched read, not a sensationalized opinion.

He starts talking about Manhattan without people. Once power is gone, the 573 pumps that run to keep the subways dry stop, subways erode and collapse, within days or weeks. Streets and buildings collapse as the water washes away foundations.

One of the first tasks on 911 was bringing in pump trains. Generators to power up the pumps that were without power.

Glass, stone, ceramics are the last pieces to disappear, when civilization ends.
If you want to destroy a wood framed home, cut an 18" square hole in the roof, watch nature take over.
Bob "hot rod" Rohr
trainer for Caleffi NA
Living the hydronic dream
Comments