Welcome! Here are the website rules, as well as some tips for using this forum.

Steam Mystery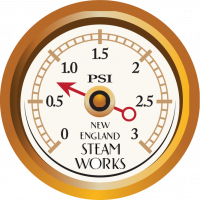 My guys just finished a new install of a Weil EG30 in a small home, everything done correctly of course, with dropped header etc. The system has two 2" supply mains. One is parallel flow and only about 5' long with 3 take-offs/radiators. The other is counterflow, about 12' long, also with 3 takeoffs/radiators.

They fired it up and no steam would enter the counterflow main, even after a considerable time. I told them to change the radiator vents on the parallel flow side to #4s. No effect.

They said there was a plugged tee at the very end of the counterflow main (which presumably had a vent at one time) so I told them to remove the plug. They did this, and still no steam would enter the Counterflow main.

I then told them to close the king valve on the parallel flow main. This had the effect of sucking all the water out of the boiler, causing it to go off on low water, and then the water belched out the end of the counterflow main (where the plug was removed).

Try as they might, they could not get steam to enter that counterflow main, and being late, they gave up.

Unfortunately, they failed to take pics, though I trust that they installed everything correctly.

So I am headed up there next, but I thought I'd run it by the wall for any ideas, as at this point it is a head scratcher...

Thanks.
Comments