Welcome! Here are the website rules, as well as some tips for using this forum.

Fixture Calculator, you need to use this!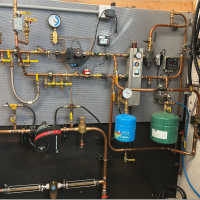 If you do plumbing work and size equipment and piping, download the free updated calculator is a much needed revision to the 80 year old Hunters Tables and greatly reduces piping size, PRV, mix valves, etc.
Almost on a daily basis we get calls about misbehaving TMV. Most often the valve is over sized or grossly overside and cannot regulate properly.
Don't size any control valve by the pipe it will connect to
Use tables and manufacturers charts and Cv numbers.
https://www.iapmo.org/water-demand-calculator/
Bob "hot rod" Rohr
trainer for Caleffi NA
Living the hydronic dream
Comments