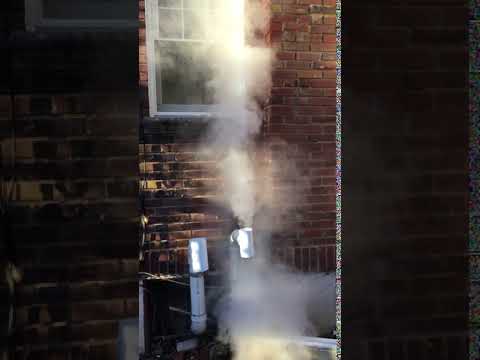 I bought the house back in the summer and had never run the system until I moved in last month because the radiators were pulled out of the house.
Anyhow, this thing works a treat but is generating a massive column of steam and a loud sound coming out of the flue. It is far worse when the boiler first starts up and then dulls a little over time, but is still loud even then.
I would describe the sound as a low whistle but listen for yourself.
All the googling I've done seems to imply that people's usual problem is caused by the boiler itself or the pipes vibrating. As best as I can tell this is NOT what's going on here. I put a screw on top of the boiler and it just sits there doing nothing. The noise seems to be related to the escaping of the hot gases out of the flue, not the boiler itself, as it's MUCH louder outside the house than in.
However, the whistling sound is very clearly audible across the house and two floors up (not to mention a block away, so it must be driving my neighbors crazy too).
Any ideas for quieting this thing down? My wife is ready to kill me.