I recently had a 32yr old Weil-McLain EG-40 replaced with a PEG-40.
The new plumber felt that the way the old system was plumbed in was not appropriate so they made some changes. Now when the system runs the water in my sight glass bobs up and down the whole time the system is running. The old boiler never did that ever. The other issue is that the basement is now the warmest room in the house.
This photo shows the original piping with red arrows(sorry I forgot to snap a photo before they started pulling the dead boiler out)
And yes I am aware that this one was not correct but it worked well for 32 years.
Red arrows are where the old piping was connected.
The new plumbing is in the photos below, the steam makes a couple of 90 degree turns before the main that goes to the rest of the house. They also added a pipe so that the condensate would not flow back down through the top of the boiler. This was just completed yesterday and I am not sure it's even close to correct. Any help would be appreciated.
This shows the extra piping that was added to connect into the pipe connecting to the botom the hartford loop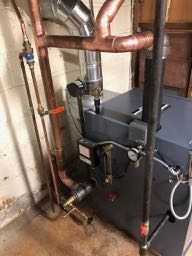 By the way, I have read Dan's book "The Lost Art of Steam Heating" and from what I read something just seems incorrect.
Thanks.
Peter