Welcome! Here are the website rules, as well as some tips for using this forum.

Soft start motor control?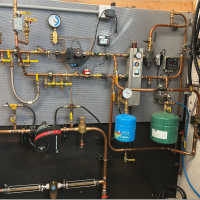 We have this soft start on our irrigation pump, 30 HP, 480V 3 phase. We replaced the motor, and an electrician wired it, checked rotation with just a bump as we hadn't flooded the ditch yet to run the pump.

When I try to fire it up now I get the "phase loss" error. All legs measure 485 V.

Any motor control guys out there?
Bob "hot rod" Rohr
trainer for Caleffi NA
Living the hydronic dream
Comments