Welcome! Here are the website rules, as well as some tips for using this forum.

Gauge glass erosion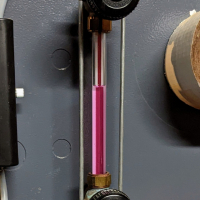 My gauge glass has been seeping for a few years now and I knew I needed to fix it but I had no idea it was going to be this bad.
I knew my pH was on the high side but I always felt I'd rather replace a cheap glass than a boiler.
Here's what I found after 9 years of 2 tablets of Steamaster.
Yes it's chipped at the bottom, and I scored it a hair in the middle expecting to have to break it in half to get it out.  The chip isn't from me and not only did I not have to break it to get it out but it was much shorter than it was new.  The funnel shape you see at the middle isn't an illusion, it's there.
Original length was 7 3/8.  It's now 7 3/16 and razor thin on the bottom half.
I think from now on I'll put a new glass in every 5 years or so.
Single pipe quasi-vapor system.
Typical operating pressure 0.14 - 0.43 oz.
EcoSteam ES-20 Advanced Control for Residential Steam boilers.
Rectorseal Steamaster water treatment
Comments