Welcome! Here are the website rules, as well as some tips for using this forum.

TTT, teflon tape tips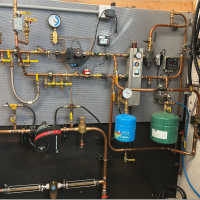 Problems arise when the tape ends up inside the pipe as well as outside. We see "shards" in pumps, valves, strainers, etc.
The key is to start the tape one or two threads back from the end of the male thread. Not off the end like the right side of this nipple shown. Starting back a thread keeps it from getting inside and causing headaches.

Some plumbers put a coating of pipe dope over the tape. Some plumbers put pipe dope then teflon tape. Some plumbers tape the male thread and tread dope inside the fitting.
The tape should work fine by itself.
Different stokes for different folks.

I don't know there is a huge difference in tape color other than a visual. The stainless steel specific tape seems to have a coating of something like anti seize.


Bob "hot rod" Rohr
trainer for Caleffi NA
Living the hydronic dream
Comments