Welcome! Here are the website rules, as well as some tips for using this forum.

stick w/ oil or switch to propane?
my wife and i bought a house in Oct 2020 and our heating costs are higher than i would like. this is our first experience with heating oil, our previous house was GFA w/ NG. note that NG is not available here.
year built: 2003
size: 3400 sqft
location: Atlantic Canada
current system: 2003-era NTI C-series heating oil boiler w/ indirect tank for DHW
distribution: hot water radiators (about 60%) and in-floor (40%, some in-slab and some in-joist)
oil tank: inside basement, fiberglass, brand new (supplied by seller), 796L capacity
i believe the boiler is original. we had it cleaned and serviced when we moved in (i think it had been some years since anyone did that), but i reckon it's time to replace.
the company that did the servicing recommended we move to propane to save money. that would have the additional benefit of allowing me to add 1) a standby generator, and 2) a propane stove for the kitchen to replace the electric range.
but when i start pricing out oil vs propane and look at relative efficiencies, i don't see savings. my goal is to see what i'm missing.
since moving in, i had an energy assessment done. here is some info from that:
per that report, we are planning on adding some additional attic insulation. upgrading windows is probably a ways off. i suspect there are some areas that are lacking sufficient insulation, so we'll be addressing those in time.
in December, i had a Daikin minisplit installed (FVXS15NVJU/RXL15QMVJU). that unit, set at 69F, keeps the kitchen and dining rooms @ 22C, and also keeps the upstairs hall
@18-20C
depending on outside temps. that hall leads to the bedrooms. i typically leave that thermostat set @ 19C, and that calls for heat only occasionally. the master bedroom is a little cooler than i'd like, but i reckon i can turn the upstairs to 20C if we can get our overall costs down.
post mini-split install, i believe most of the oil usage is going to the living room (a mix of in-joist and in-slab radiant heating) and my office above it (hot water rads). i'm currently getting quotes for a 2-head minisplit to help take the load off the boiler.
but i still have to replace the boiler. here are some of the fuel prices i've captured in the short months since living here:
- electricity $0.1492 CAD / kwh
- heating oil, ranges from $0.774 - $0.896 CAD / liter ($2.31 - $2.67 USD / gallon)
- propane, ranges from $0.764 - $0.868 CAD / liter ($2.28 - $2.59 USD / gallon)
i captured those prices between Dec 2020 and now; i don't know what summer pricing looks like.
when i multiply out the costs and expected efficiencies of new oil vs propane boilers, and the BTU of the fuels, it still looks like i get more BTU per liter of heating oil. and those prices per liter are comparable.
BUT, am i missing anything? should i be thinking about cycle times, or condensing/modulating, or pump efficiencies, or anything else? i also don't yet have a handle on who would own the propane tank here, and if that does indeed limit me to that supplier. what if i get such a large propane tank that i can buy only during the summer? does that change the equation? what else am i not thinking about?
note that i do have enough property for an above-ground propane tank.
i can always add propane separately, of course, to get the genie and stove.
in the spring, i plan on having at least 3 companies out here to quote new systems, but the more i learn now, the better.
i'll finish w/ some photos of my current setup.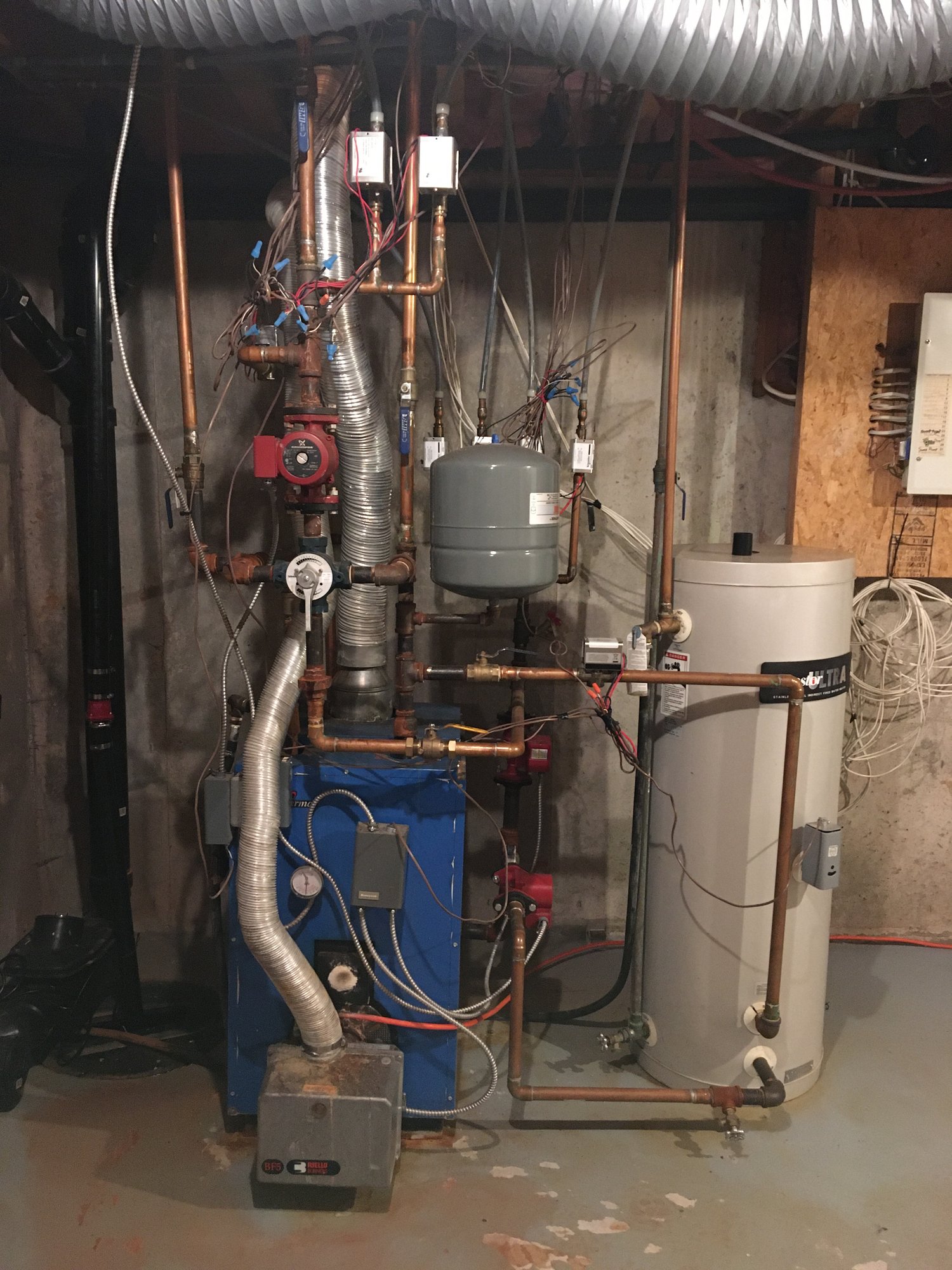 Comments