Welcome! Here are the website rules, as well as some tips for using this forum.

Name that tool: What the heck is this?
Hmm. Fixed jaws. One jaw smooth. The other jaw has teeth. My guess is this is used to remove bolts with a stripped head. You push the jaw onto the bolt head and then bash the end with a hammer to bite into the bolt head. Then, after it has broken loose, you can turn the wrench, pull it back a bit, rotate the wrench, push it back to bite into the bolt head, etc. Anybody know definitively what this is? It comes from tools I inherited from my wife's great grandfather. I'll guess it dates back to the 1920s or so.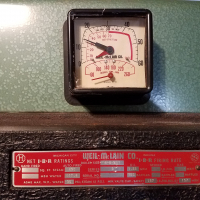 Comments