Welcome! Here are the website rules, as well as some tips for using this forum.

Heat/cool for a real trailer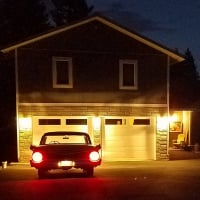 Customer of mine has a food truck, but is building an enclosed trailer to serve bbq out of year round. This will need heat 24/7 in the winter to prevent freezing. I've wired shore power at his house, and he has 240volts available where he travels as well. Trailer will be insulated to at least R10. 

I'm thinking this is perfect for a mini-split, but are there any which are rated for this? Being attached to a moving vehicle (while not running) and then being energized immediately after becoming stationary again. 

I'm going to install a small electric wall heater in there as well. 

72 square feet, 504 cubic feet total. 
Serving Northern Maine HVAC & Controls. I burn wood, it smells good!
Comments