Welcome! Here are the website rules, as well as some tips for using this forum.

B vent leaking from seam in pipe?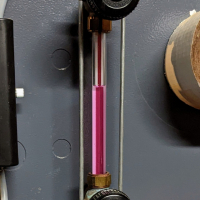 While doing some work in the attic I noticed my B vent had some white stains running down the side. Saturday during a storm I was up there and noticed an occasional drip run down from the bottom of the seam in the pipe that passes through the storm collar.
Best I can tell, the drip is coming from the inside of the seam rather than the outside of the pipe. The outside of the pipe looked, and felt dry.
What gives
?
Single pipe quasi-vapor system.
Typical operating pressure 0.14 - 0.43 oz.
EcoSteam ES-20 Advanced Control for Residential Steam boilers.
Rectorseal Steamaster water treatment
Comments