Welcome! Here are the website rules, as well as some tips for using this forum.

Furnace is not kicking on when any thermostat is turned on
Hey all,
I'm having some issues and not sure if I can fix it or if I need a pro.
I bought this house a few months ago, when I did the walk through I checked all 3 thermostats and they worked and called for heat and the furnace would kick on and the baseboard heaters would heat up.
During some renovations to the kitchen, power had to be turned off and on a bunch of times and one day I had no hot water. Electrician put in a new transformer down by the furnace, said it shorted out stopped working. I got hot water back thought all was good.
Yesterday I replaced a 30 year old Honeywell Thermostat on my main floor with a new T5 with batteries. At one point it def was line voltage in there as it had an electric box and the electric wires (white and black). I get it all hooked up and test it out, get no call for heat, left it on heat mode and auto fan and temp set at 80 and no heat ever came up. I went to my basement and my 2nd floor and did the same with those thermostats and same issue no call for heat.
Now...I don't understand how any of this is wired, as there is a lot of splices, twists etc but the one thing I can tell is that the voltage at each thermostat is only 10v. The Transformer is a Supco SXT150 24v. I went down to the furnace and I tested the volts of the wire out the transformer and it saying 10v as well and not 24v. Could this transformer be the issue? Should I try and change the Transformer with a new 24v one and see if it resolves the issue before calling a pro and possibly spending $$$ for a simple transformer swap.
Lastly, if it is the transformer, this would be 2nd time replacing in 2 months. With all this frankenstein wiring (See the Pictures below)...should I call a pro anyway to checkout and help me figure out how this is wired, and if it is done correctly? Thanks!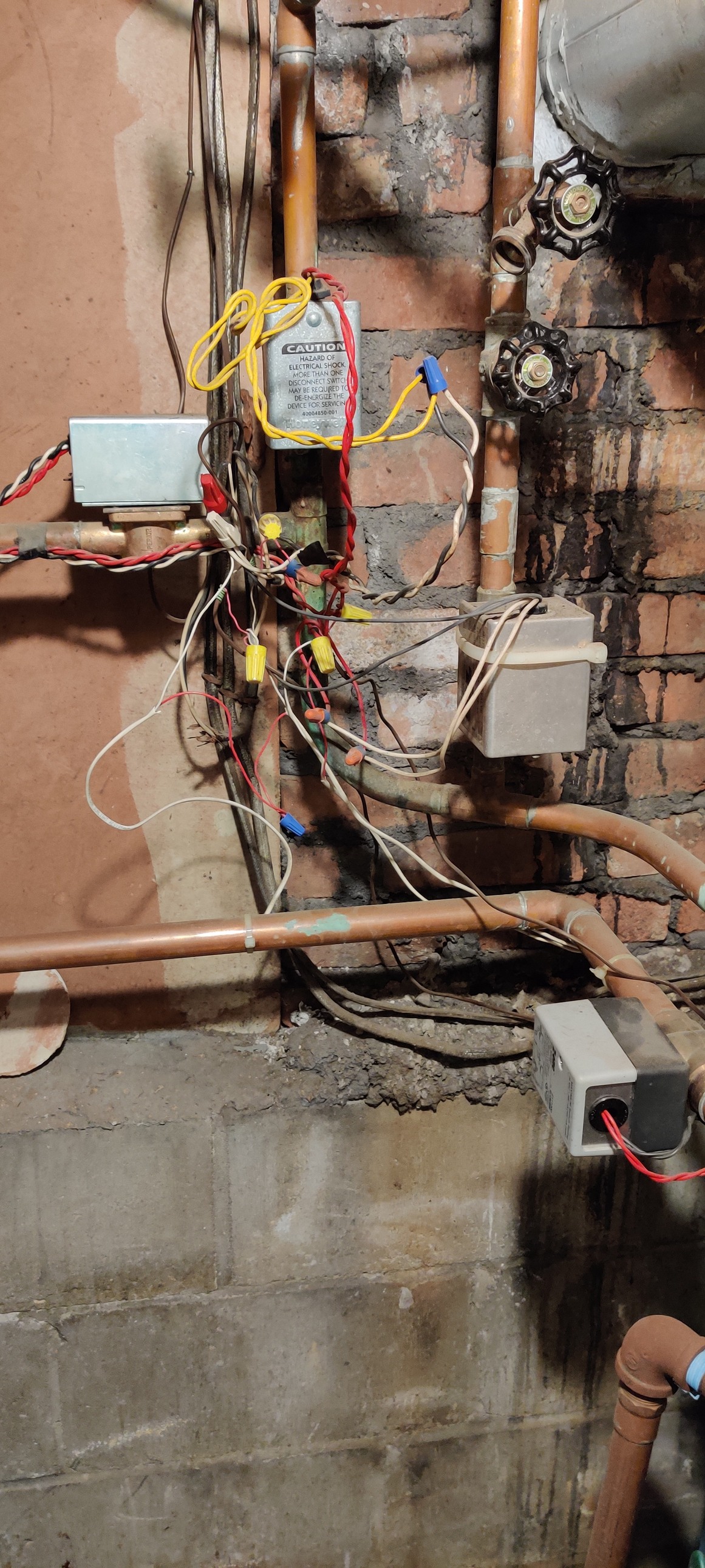 Comments