Welcome! Here are the website rules, as well as some tips for using this forum.

Dual-temp hydronic heat piping plans
Hello,
I have a plan to revamp my hydronic heating which I would like some feedback on.
I currently have an oil fired boiler which also heats my DHW.  I have hot water convectors in each of my rooms, all fed by a single circulator in a (mostly) reverse return piping configuration.
My goal is to remove all of the first floor convectors and have them replaced by underfloor pex heating. I have access to all of the joists/subfloor to lay down the tubing.
I also plan to remove the reverse return piping and directly connect the second floor convectors with pex to a manifold with flow controls. My main bedroom on the second floor gets the most heat, and my child's room is very slow to heat up, but it gets there. I have no controls currently on the convectors to help that.
I also want to install an indirect fired water tank in the future.
I've attached a picture of my design drawing with the main components (I left out check valves, gauges, and fill/purge). Boiler is a 125,000 BTU Slant Fin with a Beckett burner. The thinking behind a heat exchanger is an attempt to avoid the inefficiency of cooling the water down from the boiler for the in-floor heating, and then having to heat it back up to return it to the boiler to avoid condensation.
Heat loss calculations (from slant fin app and omnicalculator.com):
First Floor: 5 rooms, 830 sqft, 23000 BTU (design is for 4 loops of 300ft 1/2" pex, with a possible addition of one more loop for my basement floor)
Second Floor: 4 rooms, 600 sqft, 13000 BTU (currently 5 convectors, 17 ft total length)
Climate is Southeastern PA, house was built in 1940.
Questions:
Can I run the heat exchanger for the pex zone off of the primary pump or do I need to put it on a secondary loop with it's own pump?
How much of this can I pipe with pex? Goal is to be able to replace components or redo any mistakes without sawing pipe...
Is the Taco 007e the right circulator for this? My calculations show that I need about 2.5 gpm with 3.5ft head for my pex, and even smaller for my convectors...
Any other tips or parts I'm missing?
Thanks for reading, and looking forward to your comments!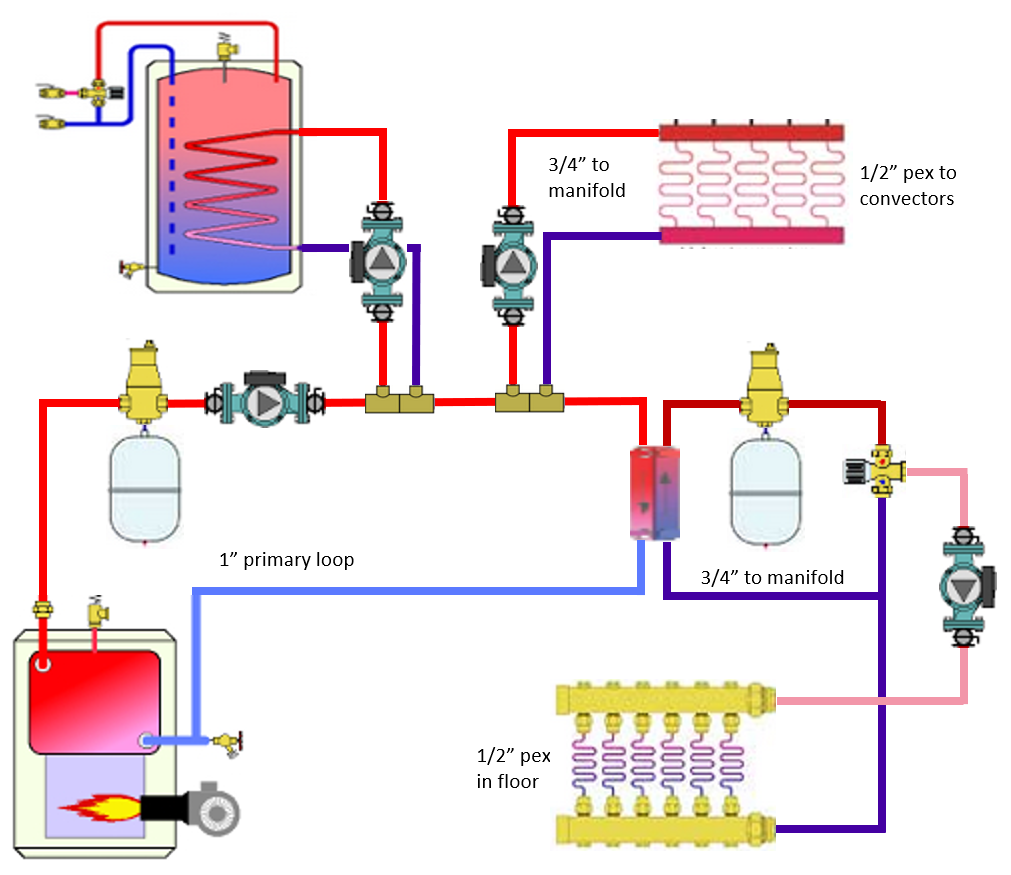 Comments