Welcome! Here are the website rules, as well as some tips for using this forum.

Organizing nozzles and stuff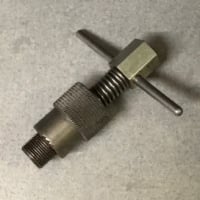 I've always worked by/for myself so I'm always interested in how other people organize their trucks (or don't organize them).
Was at the supply house re-stocking and 2 other guys liked how I organize my nozzles. I mounted the inserts from the Delavan boxes into drawers.
I just can't believe they just leave theirs in boxes and drawers, mixed up/banging around, never knowing what they have or having tons of nozzles they'll never need.
Due to the fact I track everything, I have one correct nozzle per customer, plus at least one extra per type. I also have stuff in pack out cases to find quicker. When I go in for tune ups, I bring in the right nozzle, filter, strainer. Always shake my head at the guy who has a dozen nozzles in their tool box and either have to make another trip to the truck, or put one on that's 'close enough'.
What do you guys do?
steve
Comments