Welcome! Here are the website rules, as well as some tips for using this forum.

Those parameters tripped me up (no touchy homeowner)!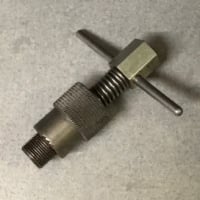 Not a question, just a story. But the first time it happened to me.
Get a call from a Will-Call, I already know he's out of oil. Says the heater doesn't work, tried resetting it a dozen times (he was 'properly instructed' about not doing that) keeps reading 'Hard Lockout' (Honeywell R7284U I installed 3 years ago). I asked him if he did anything other than just try to reset, he said no (I forgot George's first rule-Never Assume). Told him he's out of oil, I'll come fill him up.
Go over put oil in, prime and go. Calls late last night, burner reads 'Hard Lockout', says it's fine until the morning.
Go over today, burners intermittently locking out about 3 seconds after light off. Set up as 3 wire, no pre/purge, no oil valve.
Gotta be loose wiring, maybe bad motor. Check all the wiring, ohm out the split-phase motor, check start winding. All on the higher end of the range, but ok. All wire nuts tight. Voltages good. Ohms fine. Still doing it.
I decide to go into the installer menu and check the parameters. I guess (didn't ask, but I knew) while trying to reset the burner himself, he went in and changed the parameter to pre-purge, and turned off the diagnostics. So it was basically seeing flame during what it thought was pre-purge, and shutting down.
Fixing the parameters, fixed the 'problem'.
Hopefully the bill will keep him from touching the control. I told him to not reset the burner if it locks out because it won't fix the burner & clears the fault history (it doesn't, but that's probably the only thing that will keep him from touching it).

Lesson learned, or better yet lesson reminded.
steve
Comments