Welcome! Here are the website rules, as well as some tips for using this forum.

If boiler manufacturers would...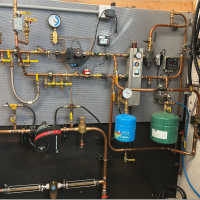 Include a hydraulic separator schematic drawing as a preferred piping in their installation manuals, when the boiler requires P/S, here is what might happen:

Less warranties of failed HX due to lack of flow, air, dirt, iron oxide, and piping installation error.

Less tech support phone calls dealing with improperly sized, installed primary secondary piping, tough to troubleshoot over a phone call.

Less stress and anxiety on employees that have to deal with correcting the problem and related phone rage. Phone tech support is a high turnover position.

Higher profits, better customer retention, more profit sharing (trickle down economics)

To properly size a hydrosep you need to know one thing, highest expected flow rate, either side.

The win for the installer, assuming they use all 4 ports correctly:

Assurance of designed flow rate
No brawling circulators, all sizes shapes and colors of pumps get along.
High efficiency air removal, including micro bubbles
Particle removal down to 5 micron, the thickness of a human hair; some humans
Magnetic particle removal, common magnetite particles can be .05 micron
1 or more gallon of buffer capacity, more volume than some boiler HXers
Port for sensor well, gauge, etc.
Insulated device to assure more heat gets to the load, not the boiler room

The residential boiler room primary loop is so 1990's, it should have disappeared with parachute pants.
If you profess to sell high efficiency systems, use high efficiency components. We are getting past the older technology PSC wet rotor circulators, time to get past old technology piping methods.

Proper piping reduced pump failures also, a win for those manufacturers also.


Granted there are applications for primary loops in larger applications, maybe looping down a long corridor for multiple take offs, etc. I think Gil's original intent was a commercial piping method.

Kudos to the boiler manuals that show hydraulic separation devices in the I&O manuals.
Bob "hot rod" Rohr
trainer for Caleffi NA
Living the hydronic dream
Comments