Welcome! Here are the website rules, as well as some tips for using this forum.

Ramblings on Reliability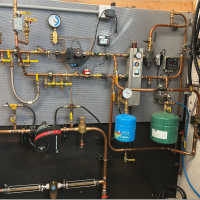 Certainly when you visit a site named "Heating Help" you expect to hear mainly about problematic jobs and or products. The public is fortunate to have a mostly friendly landing pad to take problems and questions to.
What you rarely hear is experiences with the 10's maybe 100's of thousands of systems, boilers, furnaces, pumps etc that run long trouble free lives.
One could point to all sorts of conditions that cause system or products to be unreliable or fail before their expected lifecycle.
Installation error may top that list. Improper sizing, failure to tune the system both on combustion and flow rates. Lack of routine maintenance. Down engineered cheaply built product, etc.
Welcome to the digital, electronic world. Many of the products we deal with are run by microprocessors. Dirty power, brownouts are not friendly events for electronics, any more than a lightening strike is.
You would be hard pressed to find any modern "device" in your home from the basic thermostat to all the appliances that do not have a computer of some sort.
I understand the attraction to simple KISS "stuff". A standing pilot gravity system puts a smile on many hydronic folk faces.
But realistically those days are in the rear view mirror. Either by regulations, or generational changes.
A neighbor corrected me when I complimented him on his new car. He told me a Tesla is A computer that happens to have wheel. He doesn't consider it to be an automobile. Of course he is in his 30's
So some will continue to long for the good old days until the last shovelful of dirt is tossed on their grave. Most others will embrace, look forward to the new age of machinery. And to figure out how to leverage that for yourself and customers.
There is no right or wrong with old tech vs new tech. Even old timers like myself can embrace change and cutting edge stuff.
it's nice to live in a place and time where the options still exist.
Now where did my digital business card go off to??
Don't fear the reaper, and don't fear the HPWH
Bob "hot rod" Rohr
trainer for Caleffi NA
Living the hydronic dream
Comments