Welcome! Here are the website rules, as well as some tips for using this forum.

How was my 1880's house heated?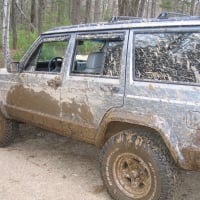 This has always been a curiosity of mine. Looking back at census records our house was built and occupied in the 1885-1890 timeframe. The town records were destroyed in a fire around 1900 so any official surviving documents are long gone.

This Mill town exploded in population growth in the late 1800's and early 1900's. In the span of 20-30 years it went from Mill buildings and apartments owned by the Mills to many of the workers building their own homes on new land.

My house is a "cookie cutter" house as many of the houses on our street and general area share the same basic architecture but many have been added to over the past 100-150 years. It is a 1.5 story 1600 sq.ft house, nothing fancy. My assumption is that it was built as "affordably" as possible. This was an entry level house, not luxury by any means.

No evidence of a fireplace. I have only one 6" chimney (original) heated by NG starting in the early 80's. It was heated by oil before that to at least the 50's/60's. In the basement it looks like an old basement window or two has been bricked up quite some time ago, perhaps there was a coal chute once upon a time?

I have one column style radiator in the kitchen and the rest in the house are tube style. Currently no heat upstairs except for the bathroom but I've found holes in the floor of all three bedrooms which leads me to believe steam may have existed in those rooms at some time.

There are small round holes that have been cemented over on the walls adjacent to the chimney. My guess is a 4" or so stovepipe dumped directly into the chimney. There is another of these patch jobs on an exterior wall as well. Perhaps from old coal or kerosene stoves?

Lastly there is evidence in the kitchen of an old wood or coal cookstove that had a small chimney that went up the side of the house.

So what do you guys think the original house had for heat? Maybe the kitchen cookstove plus some small coal stoves in the bedrooms with steam added later? Or perhaps a coal powered steamer from very early on? The lack of a fireplace throws me off a bit.

Thanks everyone!

EDIT*** Forgot to mention it is a single pipe counterflow system. Some chunks of asbestos in hard to remove areas but 95% was removed at some point.
Comments