Welcome! Here are the website rules, as well as some tips for using this forum.

Flow rate info for pex and copper tube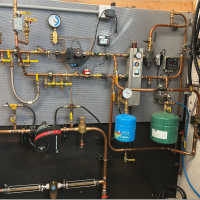 The copper tube tables are from the engineeringtoolbox website. Lots of useful info there.
The pex calculator is at the PPI website.

Good to note 3/4 copper tube flow rates. 3/4 M or L can easily handle 6 gpm and fall within the 4 fps rule. So at a 20∆ that equates to 60,000 BTU/hr. With M copper you could probably run up to 7 gpm.

3/4 pex about 4.5 gpm, at 4.1 fps velocity, within the pex tube recommendations.

I'm running a demo in my shop at 6.1 gpm and no velocity noise at all.

33W on an ECM circ to move that flow rate, through a short 3/4 loop in my shop.
Bob "hot rod" Rohr
trainer for Caleffi NA
Living the hydronic dream
Comments