Welcome! Here are the website rules, as well as some tips for using this forum.

Need help with balancing a steam system (first-time poster)
Hi there — I have looked for answers to similar issue that what I have, and did not see them. I have lived in my home since April. It's 1929 brick house with 2 stories and a basement, 2400 square feet total. We're in Seattle, where it (usually) does not get very cold.
We have a service company who has already done maintenance for us when we first moved in (Carlson Mechanical), and they were the original installers of this system in 2003. They are old-school and do seem to know their stuff quite well.
Here's the issue: Now that we're in a cold snap in Seattle, our second floor is getting much warmer than the main floor. We typically set the thermostat (White-Rogers) at 69 during daytime and 65 at night. While the system is holding the main floor temperature at the setting nicely, the second floor is getting much warmer — it was 75 last night, while the first floor was 65. Our attic is very well-insulated (just had it redone), but I suspect the walls of the house are not, and I know for a fact that our windows and doors on the first floor are extremely leaky.
We have the vents in 3 bedrooms on second floor set to Slow. The vents on the first floor were all on slow or medium. The radiator in our dining room is less than 10 feet away from the thermostat, and it is the first radiator almost directly above the boiler, maybe about 8 feet away, and it's 3.5-4 feet long.
A couple of notes (and I attached photos as well):
I checked cycle times before the cold spell (when we were in the 40s). The typical behavior for the system is that it would do 4 cycles of 10 minutes each (full cycle length off + on, about 6 on + 4 off). Then it would stay off for 30-40 minutes. Then repeat. During those shorter cycles, it was like precision clockwork, almost to the second. The longer off time was variable.
The temperature always reaches setting before it cycles (afaik). So I don't think we're cycling due to hitting pressure limit.
It seems like all of the vents on our radiators are the same size, despite the radiators not being the same size — though it is possible that I am not discerning the difference in size because I don't know what I'm looking for (diameter? Length?).
One of our radiators, a very small one in second floor bathroom, is missing the cap on the vent, which I assume means it's fast venting all the time (not sure how much that small radiator could factor into this).
I drain 3-5 gallons of water from the radiator every week or so, per the recommendation from the service people (they said to do it at least monthly, and more is better during heating season).
Thank you for any suggestions. And my apologies for what I am sure is severe ignorance at this stage. I'll learn the system!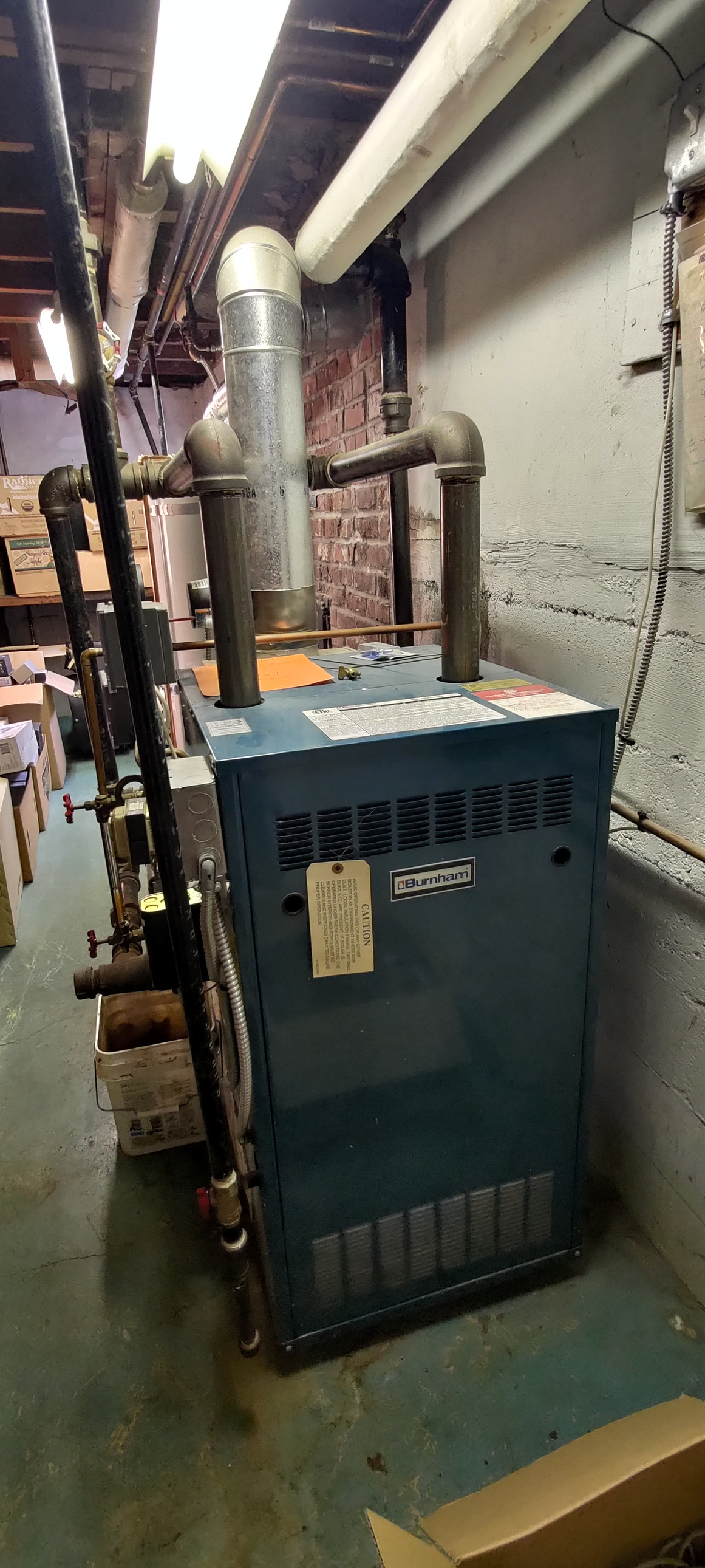 Typical vent on individual radiator (this is the dining room one near the boiler and thermostat)
Main Vent
Comments