Welcome! Here are the website rules, as well as some tips for using this forum.

New England SteamWorks Could Use Some Help With Solar Install!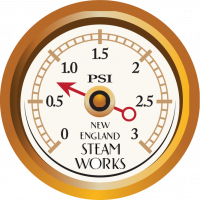 I know, I know. What are we doing with solar?!
Sigh...The customer was to have a solar hot water system installed. We were to follow and replace his steam boiler, and then connect a hot water loop to the boiler coil of the solar tank.
But naturally when we arrive the solar tank is in the garage uninstalled, the solar guys are busy elsewhere, the customer now has no hot water, and guess who's to blame in this no-win scenario?
Having never contemplated solar, we are doing a bit of head scratching. We figured with everything else installed it would be easy enough to figure out. But with nothing installed, not so much.
We've attached a photo and the piping diagram, but naturally it's for a hot water system. We don't understand why there are two circulators together in tandem in photo (doesn't seem likely it would ship this way), and we do not understand how the system is supposed to switch between boiler and solar.
Can we just pipe directly to the boiler coil inlet and outlets like a standard indirect?
Does the Resol control operate our circulator?
Any help greatly appreciated.
Comments