Welcome! Here are the website rules, as well as some tips for using this forum.

Desperate for Help Troubleshooting
ItsFixable
Member
Posts: 5
Hello All,
I am a homeowner, trying to educate myself on my system to find someone to help me fix an issue with my heating system. I have a Weil-McLain boiler that is about 24-25 years old, on a monoflo heating system. I had an additional heating loop installed just over 3 years ago to heat an addition that is on piers. At the time, I had 3 plumbers tell me that I could mix fin convectors with baseboard heating, 1 had one older plumber tell me not to do it. I went with one of the three, against my better judgment. Since then, I have been having a lot of air get into the system. I have been reading on and off since then, trying to educate myself, and at one point someone said it took them a good year to get all the air out of their system after some work they had done. I became very diligent with bleeding the convectors last year and only found the first convector closest to the boiler had air in it. In addition, since having all this done, one convector sounds rather noisy, at the far end of the house, but no air, maybe it is just the pipes moving at this point, I don't know. Anyway, I thought I had all the air of the system and now we start all over again. As I have been paying more attention to it, I noticed that it doesn't always happen. And I don't necessarily get any air out of that one convector, but I will either hear gurgling in the boiler or a slushing noise in the area. Again, this does not happen all the time but it happens. The heating system is working, everything gets warm but the noises are beginning to drive me crazy. In addition, I have learned enough to know that continuous bleeding is not a good thing and one should not hear the gurgling or slushing noises. Today I have decided to pay attention and make a log and see if it is more obvious on colder days or if there is any pattern to it. This morning after the system ran for a while since it was a colder morning when it shut down it made the gurgling sound.
Also, there is a swetcheck valve that has been chattering for the longest time, I was told that was okay, but it has since stopped in the past few days for whatever reason. I am not sure what that means or if it is even related.
One thing I was wondering is that I noticed the water coming back into the system, when the heat turns on, from the slab area is very cold compared to the water from the rest of the house. The other thing that I have learned is that the amount of baseboard I have in the addition is really too little, underheated, and thus the room gets very cold very quickly and thus the reason for the water in those pipes to get very cold. I am wondering if this could be a source of a problem for the system since very cold water meets warm/hot water and could cause air in the system.
Lastly, I am not sure what to make of it, but the pressure appears to be okay, I have the local gas company service it but they don't deal with my kind of slushing issue, because according to them it is working and I have been told to just bleed the air out. The pressure when heating is 20 psi.
I know this is very long but I am kind of at my wit's end with the noise and I really want to know what I am talking about when I have someone come out and have a look at the system.
I have attached some images of the system. I do have a second zone on the system, the second picture, that I don't use. It is for the finished basement but I don't heat down there. The last image is showing where the new heating loop was installed.
I know this is very long, but the noise is really driving me insane and at least from what I have read, it is not healthy for the heating system.
Thank you so much for your help and patience with this posting.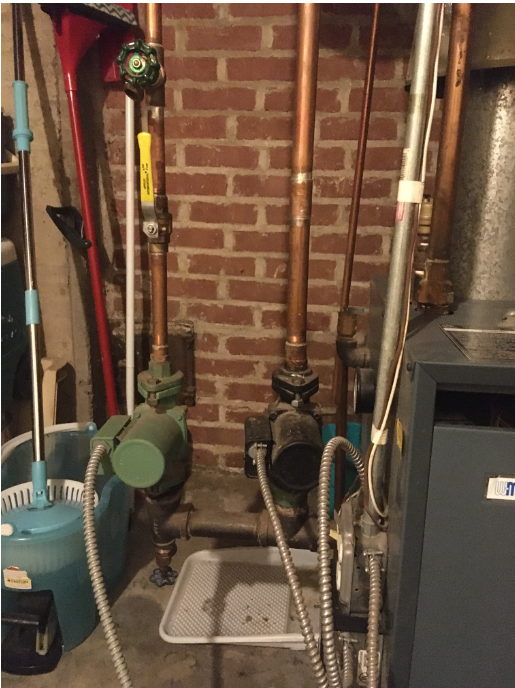 Leave a Comment