Welcome! Here are the website rules, as well as some tips for using this forum.

DHW help please - pics attached
OK, sorry in advance for the long post... The back story is that I am currently running a Weil McLain 68 Series (circa 1991) oil boiler with the tankless coil for hot water. When we bought the house in '03, it provided "enough" hot water in the Winter, but not enough to fill the tub when we had little kids. Flash forward, the shower water gets scalding hot for about 2 minutes with the shower handle about half-way on, then you keep turning it up as a shower progresses until you have it on full hot and the water is barely in the category of warm. I wanted to just drop a new coil and a thermostatic mixing valve (vs. the mechanical one there now) in there but the wife insists that we have never had enough hot water ever. So, she called our boiler maintenance company and they came out and said they couldn't/wouldn't touch the system unless we brought it fully up to current code, which is basically impossible, but that's a whole different issue...
OK, so, the wife insists that "we" are replacing the current tankless coil with an indirect DHW tank. I look around and settle on the Bosch Buderus SST250, which I now have sitting in my garage. Also, "we" are replacing it, which means "I" am replacing it. I am an avid DIYer and the only two jobs I don't do myself are cleaning my boiler and cleaning my chimney, so I have the skills necessary, but none of the knowledge.
The current set up is this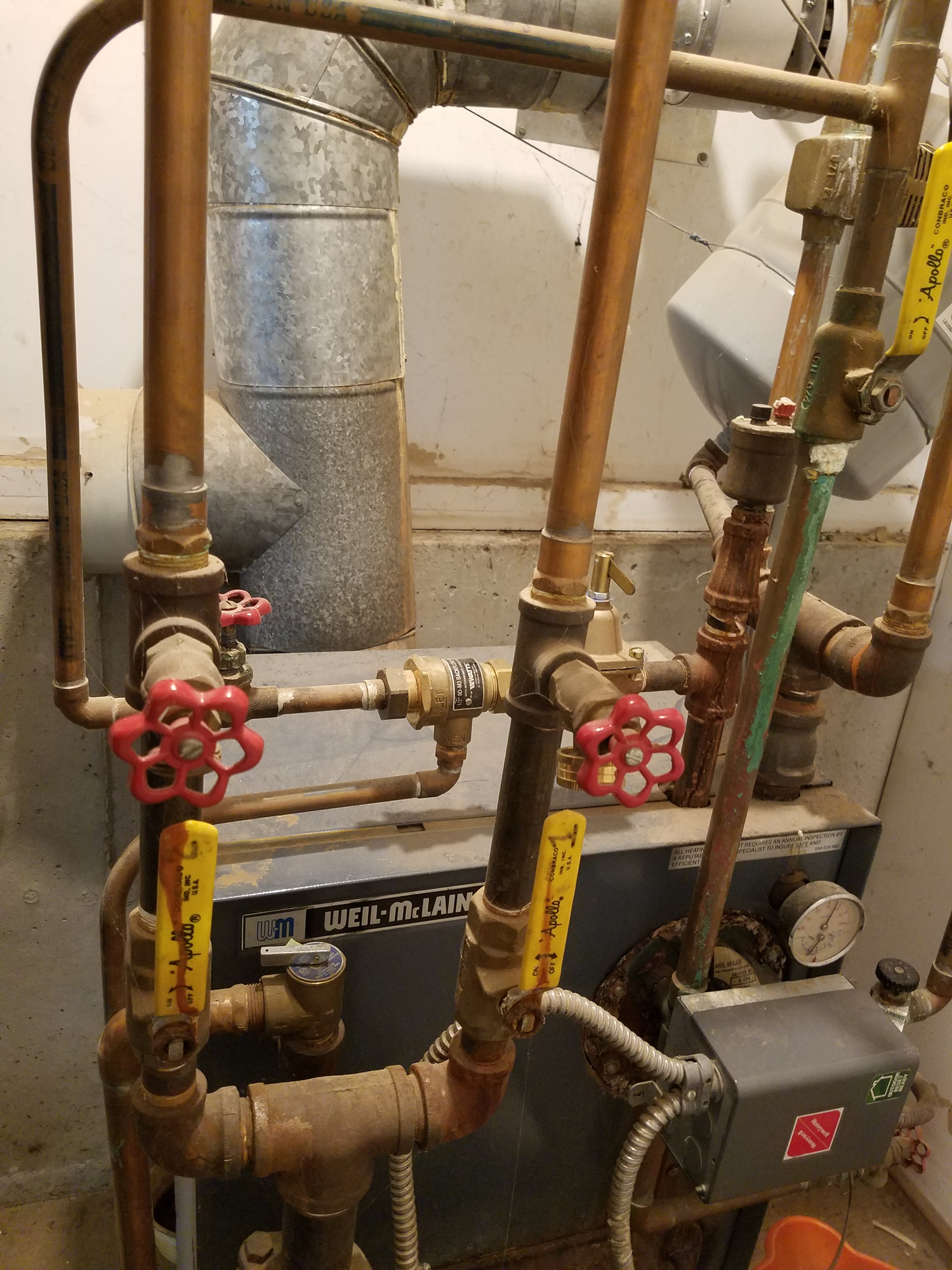 Literally every valve and component on this system has a degree of leakage, so I will be replacing a lot of stuff here. My current plan was to tee off where the single circulator pump is for my return line but there may be an easier option. For the hot feed from the boiler, I was going to replace an elbow with a tee up where the current zone valves split off for my 2-zones of heat. Piping in cold DHW and out hot DHW should be no problem. However, I find myself hesitating at the details of what I don't know...
So, the cover plate of the current coil is pretty rusted, so I was planning on removing that plus all the plumbing associated with it. I got a blank cover plate and gasket, which I assume is the correct thing. I was thinking of using the Taco 007e-F2 EMC on the tank return line back to the boiler. My original thinking was that I could just split off a third zone valve and return into the current 2-way tee return using the existing circulator pump, but the one thing my boiler maintenance company said, aside from, "No," was, "I suppose you could do that but we don't do it that way." In all the installation instructions, I see various references to needing check valves. I would think those would be on the boiler to tank side. However, when I looked carefully at the installation diagrams, it seems like they all have the circulator pumping INTO the tank and the check valve on the tank to boiler return side. So, I'm kinda lost. I know I need to buy a circulator, a few ball valves, copper pipes and probably some different iron pipes and tees to shorten up the circulator return on the heating side to tee off below that pump. I will also need a thermostatic mixing valve to replace the current (probably stuck and definitely leaky) mechanical mixing valve. I need a new pressure relief because the one I currently have isn't blowing when the water is at 40 psi. In case you're wondering, I think the water is at 40 psi because the hot water coil, I theorize, has a big hole in it, so I get full municipal supply pressure. Lastly, I assume, since I had over-high pressure, I probably need a new expansion tank and I definitely need a new air bleeder valve and pressure gauge (reads about 5 pounds too low, according to the furnace guy who last serviced my unit).
So, can anyone give me some guidance or advice? Is my plan sound? Are there any glaring elements which are way harder than I think the need to be? Is there some aspect which I am totally missing? Is there a totally different, much easier and/or cheaper route which I can take which will provide superior performance? Please, comments, criticisms, I can even take people calling me a dummy for my totally inexperienced (as far as heating systems go) perspective. I'm also looking for advice on what thermostatic mixing valve to use. I read some good things about the Honeywell one, but then I also read some bad things. Some installs, I see an expansion tank on the hot water heater. Do I even need this or will the one on the furnace suffice? Or is that on the potable side? If it's on the potable side, is that because there should be a backflow preventer valve on the supply and the hot water needs someplace to expand to?
Comments