Welcome! Here are the website rules, as well as some tips for using this forum.

Solar pump stations, pre-ebay offer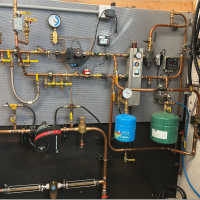 I have a few of these solar pump stations, new in original box. Grundfos 15-58 3 speed, 3/4" copper compression connections. Includes pump, safety group, air purger, check and iso valves S&R temperature gauge. Good for around 9 GPM, depending...
One version has a delta t controller installed. The other version, without controller does have a Grundfos VFS installed, reads flow and temperature, which wires directly to some controllers. Either can be run in variable speed function from most any solar controller. Wall bracket, insulation, and expansion tank bracket, check and flex included.
Certainly this could be used for any hydronic pumping application, it would not know or care if it were connected to solar or boiler energy
$120.00 or 150.00 with controller, plus shipping. Weighs about 20 lbs 12 X 16 X 10" box from 65742
Bob "hot rod" Rohr
trainer for Caleffi NA
Living the hydronic dream
Comments