Welcome! Here are the website rules, as well as some tips for using this forum.

Single pipe vacuum idea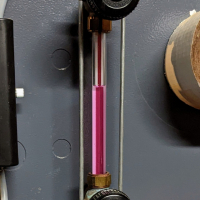 I don't know, think it'll work?
I came up with it this morning.
The drawing is far from perfect and ignore the fact it's apparently a counter flow system.
The valves by the solenoids are used to throttle the vacuum flow if necessary for balancing, aside from the thermostat system.
The PLC would control everything based on thermostats and time. When the boiler is off all solenoids are closed except the one to atmosphere. The PLC fires the boiler up when it determines enough rooms want heat. Once steaming it closes the atmosphere solenoid and opens the solenoid to the main vent vacuum line. Once that line starts getting hot the solenoid closes and allows the rooms to receive vacuum.
Single pipe quasi-vapor system.
Typical operating pressure 0.14 - 0.43 oz.
EcoSteam ES-20 Advanced Control for Residential Steam boilers.
Rectorseal Steamaster water treatment
Comments