Welcome! Here are the website rules, as well as some tips for using this forum.

a movement back to water tube mod cons?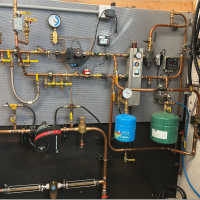 I spent several days this week with a group of 35 hydronic reps from across the country. I'm got to chat with multiple reps that sell hundreds of mod con boilers a year, and have been for 10- 20 years or more.

They tell me they are seeing more failures with the fire tube style, leakers, pin holes and excessive scaling that they did with the coiled tube Gianomi style. The theory is the additional water capacity, and hot tube sheet heads actual can cause more problems with scaling, hot spots and failures.

In fairness all brands should have mineral free water to start with, but that is an exception, not the norm in our industry from what I experience in talking with dealers and installers. No heat exchanger is designed to run with scale build up and the thickness of the scale layer, metal temperature, ph, flow velocity all enter into the HX experience.

The water tube style, properly pumped to get a good velocity and scouring currently looks to be the more trouble free of the two styles.

It sometime takes 10 years or more of a track record to get enough data and determine the plus and minuses of the various HX designs.

Any other experiences or opinions?
Bob "hot rod" Rohr
trainer for Caleffi NA
Living the hydronic dream
Comments