Welcome! Here are the website rules, as well as some tips for using this forum.

Is it just me? Am I too picky?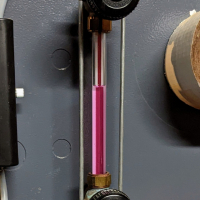 So I bought a bunch of "Air-Tite takeoffs with dampers" for the system I'm building.
They were far from air tight. Having one damper shaft just flopping in the wind in a wide open hole and the other with a lever and a wing nut. How is this considered acceptable!?
I did some thinking, and came up with this. All I need now is a bead of silicone on the seams and rivets. The abrasion resistant rubber washers fit very tight and needed to be threaded onto the shafts.
They also operate a bit nicer with the wing nuts loose as I have steel washers on the inside as well.
Thoughts?
Single pipe quasi-vapor system.
Typical operating pressure 0.14 - 0.43 oz.
EcoSteam ES-20 Advanced Control for Residential Steam boilers.
Rectorseal Steamaster water treatment
Comments