Welcome! Here are the website rules, as well as some tips for using this forum.

Thermostat location and how many? Opinions wanted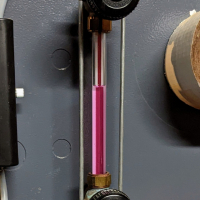 So,
I've kind of run into one of those situations where I have too many options and just can't make up my mind.
The wife wasn't helpful, though I can't blame her, she's got a lot going on right now but her response was "I don't care, either way will work for me"
I'm hoping for some opinions, thoughts etc.
Basically the scenario is this. I have two VisionPro 8000's, a basic TH8110 and the top TH8321. Both are the older, green display models. I bought the 8321 to control the 2 stage air conditioning.
My assumption right now is that for air conditioning I'm going to do better having my thermostat on the second floor under the return which will primarily be serving the first floor via the stair well. I kind of wonder if T-STAT A could do both fine, but the diffuser above it concerns me as does the fact the hot floor typically runs warmer.
The two best options I've come up with are either two separate thermostats, one for my heat and one for the air conditioning. Or, two mount the 8321 on the first floor using a relay to control the boiler as the 8321 lacks the RC terminal and using an external sensor on the second floor in the summer but disabling it in the winter.
Both scenarios require some attention between seasons. The first one, just using two thermostats is probably the simplest and cheapest as I won't need a relay or an external sensor. But, it does seem nicer to have one thermostat for everything.

I don't know? I'm torn.

What does everyone think?
The reason I'm putting a lot of thought into it is it's going to be fairly easy to run wires right now but will be an absolute nightmare once I run my duct work through the closet.
I've attached a drawing showing location of vents, radiators etc. T-STAT A is what I'm currently using for heat and have been for a few years. It works well.
Please excuse the crudity of this model. I didn't have time to build it to scale or paint it.
Single pipe quasi-vapor system.
Typical operating pressure 0.14 - 0.43 oz.
EcoSteam ES-20 Advanced Control for Residential Steam boilers.
Rectorseal Steamaster water treatment
Comments