Welcome! Here are the website rules, as well as some tips for using this forum.

working with ThermoFin, and shower wall radiant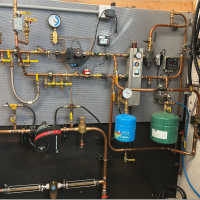 Here are some of the methods I used to do radiant walls.
It really helps to pre-drill the plates, then use a small countering screw wood or grabber screw to keep it all flat
Same for cutting them, leave them in the box and cut the whole stack in one swipe
Either horizontal or vertical works, but going across the studs risks potential nail shots from the cement board installer
Use furring strips for vertical installations to stay away from the stud where they nail the cement board
Tighter tube spacing works faster and spreads the heat more evenly, 6" OC would be ideal, maybe 3/8" tube
Warm pex shapes better, Uponor or Mr pex are the most flexible, 3/8 PAP works also
Pneumatic palm nailer with plastic tip drives the tube in, wear ear plugs!
I tried to incorporate warm shower walls on every new construction job, even if it wasn't a radiant installation, often without telling the owner, it's a real crowd pleaser
A 2-1/2 or 6 gallon electric water heater is usually plenty of HP, install the appropriate element to get the output you need. You can buy up to 5500W elements 18,700 BTU/hr.

Some of the premade dry systems would work also, Roth, Viega, Uponor, etc. But I would not use the particleboard type panels behind a shower wall.
Bob "hot rod" Rohr
trainer for Caleffi NA
Living the hydronic dream
Comments