Welcome! Here are the website rules, as well as some tips for using this forum.

Leaky mini split maybe NCG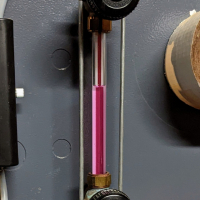 I'm helping someone that has a bunch of mini splits he installed him self a few years ago. As far as I know, they weren't pre-charged linesets....

The system leaks, and I'm going to assume has been full of NCG because he didn't know what a vacuum pump was.

This being the case, after I fix the leaks (I assume bad flares) what can I do to improve this and get him by for a while? Can I add a drier to these anywhere? Is there an acid neutralizer that can be added? They run 410A.

It would be great if I can just fix the leaks, pull a vacuum and refill but I've got a bad feeling that's not going to be the case.


Single pipe quasi-vapor system.
Typical operating pressure 0.14 - 0.43 oz.
EcoSteam ES-20 Advanced Control for Residential Steam boilers.
Rectorseal Steamaster water treatment
Comments