Welcome! Here are the website rules, as well as some tips for using this forum.

A week in chilly Alaska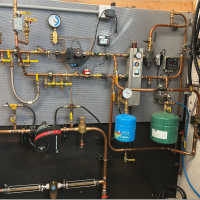 gathering with some of the best hydronicians in the land. Thanks all.
A hearty bunch they are, -35F greeted me Sunday in Fairbanks. How do you even hold tools that are -35°?
I was surprised how many pickups never get shut off. Lunch breaks, dinner breaks, sometimes all day long!
Other start an hour before quitting time.
Thinking how that energy could be collected and stored, then plugged into your home when days end. Some sort of super insulated energy storage cell to fit in the pickup beds. How many BTUs get idled away from 5 liter V8 during the course of a day in FB?
Christmas shopping pic from a local Anchorage paper.
Bob "hot rod" Rohr
trainer for Caleffi NA
Living the hydronic dream
Comments