Welcome! Here are the website rules, as well as some tips for using this forum.

Vapor System Upgrades

JStar
Member
Posts: 2,752
Just wrapped up a job on a two-pipe Vapor system. Based on the sideways Illinois radiator traps and express riser / down-feed set up, it looks like a form of Illinois Vapor system. There were no other mechanical devices in the boiler room to give a solid confirmation. Haven't done much other research on it yet.

Main complaints were massive water hammer is portions of the system and uneven heating all around the house. The house is in historic Mendham, NJ, built in the mid 1700's.

We repiped the boiler header (new 5" drop-header), removed an uneccessary condensate pump, added orifice plates to all the radiators, installed a set of new vents on the return and end of main, and put in a 2-stage gas valve and Vaporstat. I also added a drip-trap to the express main for good measure. When I cut out the plug, a few cups of water came out, so that effort feels well spent.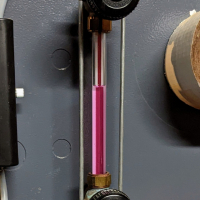 Comments