Welcome! Here are the website rules, as well as some tips for using this forum.

I just found this article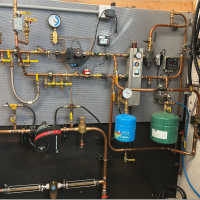 I don't quite follow his reasoning on the slab thermal break layer?? Do you?


Stephen: "The insulation works only as a thermal break. It shouldn't have a very high R-value because we want the slab to act as a heat sink in summer. I used foil-faced bubble wrap material which is made specifically for under-slab use. It doubles as a thermal break and radiant barrier. And it's inexpensive. Rigid foam, like foil-faced technifoam or blueboard, also works. Around here, the ground under a slab remains at a constant 58 degrees F. Further north, the ground temperature is colder and more insulation is required. Further south, little or no insulation is required. Carlsbad Caverns stays at a constant 70 degrees F. while the surface temperature outside varies between zero and 115 degrees F."

<A HREF="http://www.heatinghelp.com/getListed.cfm?id=144&Step=30">To Learn More About This Contractor, Click Here to Visit Their Ad in "Find A Contractor"</A>
Bob "hot rod" Rohr
trainer for Caleffi NA
Living the hydronic dream
Comments
This discussion has been closed.