Welcome! Here are the website rules, as well as some tips for using this forum.

Any Fujitsu guys out there?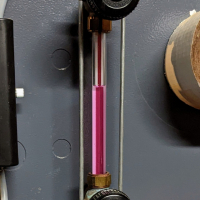 I'm trying to help my sister remotely with her Fujitsu mini split setup and I'm hoping someone can help.
The unit has two heads in bedrooms and then what looks like a ducted air handler for the rest of the house.
The house handled by the ducted part tends to run high humidity.  Like in the 60%+ area.
This is the thermostat she has.   Is there a way to make it run the fan on the lowest speed?  Is it already according to that water drop?  I know absolutely nothing about this thermostat so trying to do this remotely isn't working.
Single pipe quasi-vapor system.
Typical operating pressure 0.14 - 0.43 oz.
EcoSteam ES-20 Advanced Control for Residential Steam boilers.
Rectorseal Steamaster water treatment
Comments