Welcome! Here are the website rules, as well as some tips for using this forum.

Expansion tank quizz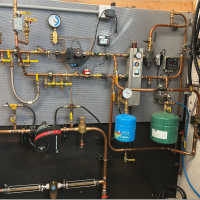 The purpose of adding an expanion vessel to a closed loop system is to "accept" the increase in volume as the fluid is heated and it expands. As the fluid warms, expands, it pushes an amount of that expanded water into the expansion tank/ vessel.
If I had the tank on a closed loop system, started a circulator capable of adding 15 psi to that 15 psi static fill, what would the gauge at the tank show? Would the pressure be the same if the circulator was pumping at or way from the tank?
With this tank precharged to 15 psi, on the air side. What will happen to the pressure, on the air valve, when I put 25 psi water pressure on the tank inlet nipple?
Bob "hot rod" Rohr
trainer for Caleffi NA
Living the hydronic dream
Comments