Welcome! Here are the website rules, as well as some tips for using this forum.

How efficient is my boiler? No really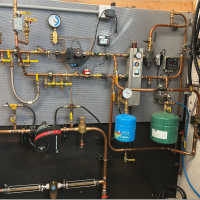 So a number of formulas to use to get to efficiency, steady state, the condition where boilers are rated.

Cycle efficiency as boilers do not always, probably seldomly run at steady state.

Run cycle, how many and how long the boiler cycles.

Numbers are probably close to what you see in of oversized boiler installations. Maybe 80% of residential fixed output boilers??

If you have equipment to collect some date, enter your own numbers.
Thanks to Siggy for the formulas and number crunching.

First slide shows cycle efficiency using different boiler rating numbers. Shows run fraction with a 10 minute run time. To the right a 60K load on a 100K boiler at a 40 day. Design of 70°inside 0° outdoor. 15,000 Btu/hr. internal gains, 4.8 KW.

The second slide shows a 150K boiler on a design load 100K application.
20,000 btu/hr. internal gains is everything inside the home adding heat, people appliances, lights, computers, so about 6KW.
A fixed output boiler in a zoned application will see these operating conditions, run fraction for example.

Bob "hot rod" Rohr
trainer for Caleffi NA
Living the hydronic dream
Comments