Welcome! Here are the website rules, as well as some tips for using this forum.

Dunham Vapor System Piping
Hi All - having a bit of an issue with a few rads on my vapor system and hoping someone can give me some pointers. This is a Dunham Vapor System installed in 1926. The system was originally coal, converted to oil, and converted to gas ~25 years back.
For some background, when we bought the house last year, the 25 year old WM EG-75 near boiler piping was all wrong (included a pic) and after first fire I noticed some moisture on the ground. Pulled the cover and found a nickel sized hole in the top of one of the sections. The wet returns were also completely blocked so not sure how any condensate was making it back to the boiler. The system had seen no maintenance in years. So I bought new a properly sized Crown Bermuda and took the opportunity to redo all the near boiler piping, get the venting sorted out, replace steam traps, install a vapor stat, a low range pressure gauge, and crossover traps. There's about 810ish sf EDR of radiation and the WM boiler was rated for 733sf. The boiler is rated at 833sf steam.
The original part of the system (15 of the 18 rads) that is all fed by 2 mains -one 3" takeoff from the header and one 2.5" branch- are working great. The three rads fed by the second 2.5" main are a bit wonky. This part of the house was hacked up a bit during a kitchen reno some years back. It's a bit hard to describe the piping config but that main runs from the header into a tee. On one side of the tee, before any of the risers, another 2.5" pipe runs back and down to the wet return and there's no crossover trap...weird. On the other side of the tee, the main continues on and feeds the rads for a second floor bathroom and a second floor bedroom before deadending into a 90deg elbow which feeds the kitchen rad on the first floor. The first rad (second floor bathroom) gets barely any steam. The top of the first few sections get a little warm. New steam traps so I don't think it's a venting issue. The other two rads get hot eventually but much slower than any of the rads fed off the other mains. 
Kind of hard to describe so I linked a video of the layout. I'm thinking air is getting stuck in the main and that's what's causing the issue. I think my best option is to cut out the dead ended portion of the main and route it back to that wet return drop and put a crossover trap there. Thoughts?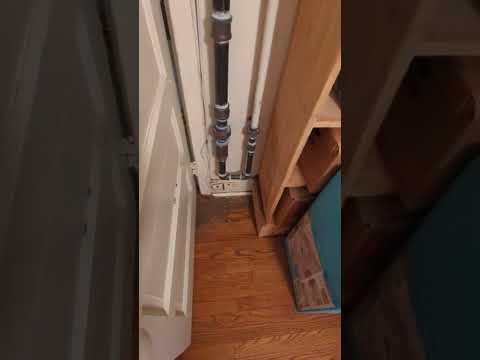 Comments