Welcome! Here are the website rules, as well as some tips for using this forum.

Indirect Water Heater installation: preventing gravity circulation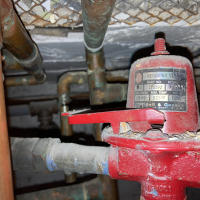 Hey folks, I've got a background as a machinist, and have been doing some of my own plumbing and electric work for a few years. After reading your forum for a few months to get a sense of the scope of the project, I recently purchased an indirect water heater, and am hoping to install, along with a couple radiators, before summer's end.
My building is large, two-story brick, all cast-iron radiators. Currently one circulator pump for the whole house.
I'm planning to basically follow the piping configuration shown in the manual that came with the heater (see picture). I planned to add one circulator to create a new zone for just the DHW. I got a taco relay to deal with the electric.
However, I'm a little confused by the circulator on the right side of the drawing, and a little confused about where check valves (and/or circulators that include check valves) ought to go. That circulator, on the return side, is between the boiler and where both zone loops end. If that's where you place the circ, doesn't it mean that the pump on the DHW would cause the other loop to flow?
Additionally, if the DHW is calling for heat, and the other loop is quiet, will the other circulator interfere with the DHW loop flow?
Comments