Welcome! Here are the website rules, as well as some tips for using this forum.

HVAC brazing torch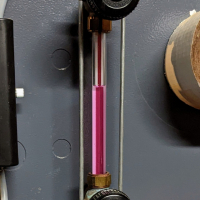 Hi all,

I need some input on options.
I have an acetylene turbo torch with a B tank I bought in 2013 with 5 tips. The tips I have are 3,5,8,11,14.

The issue I always seem to have is not enough heat when brazing fittings next to a wet rag, like the suction line valves on a condensing unit. Like, not even close to enough heat. It gets the job done, but it's a fight and I'm sure I come close to cooking something I don't want to. Trying to braze a 7/8" OD line an inch from a soaking wet rag is tough. I was using the A11 tip, because the 14 just seemed like I'd have too much flame all over.

I'm thinking I need a smaller flame with more heat..... A lot more heat...


What are my options?
is Oxy-propane an option? Should I go right for Oxy-acetylene?




Single pipe quasi-vapor system.
Typical operating pressure 0.14 - 0.43 oz.
EcoSteam ES-20 Advanced Control for Residential Steam boilers.
Rectorseal Steamaster water treatment
Comments