Welcome! Here are the website rules, as well as some tips for using this forum.

Radiators not getting hot. EK System 2000 (gas). Gravity HW conversion (see photos)
Hello everyone. First I want to say thanks so much for this forum. I'm just the homeowner (
@DanHolohan
look what you've done to me). You all helped me understand my steam system on my first house (1925, NYC) and now I'm back for more fun.
What I'm working with:
This year (2020) I bought a 1919 house, 5600 sq ft, outside of NYC. This is my first winter with it.

Being a steam-head, at first I was very saddened to see that someone converted it to hot water

But then with the help of someone from this forum, he explained to me it was actually a gravity hot water system. Cool! (ref: https://heatinghelp.com/systems-help-center/gravity-hot-water-heating-q-and-a/ )

Judging by the old work piping that is still left, it looks like a commonly used Upfeed style with 2 returns (floor) and 2 supply (ceiling) (ref: https://heatinghelp.com/assets/Uploads/heating-p8-245x300.gif )

It now has two B&G 100 pumps pushing the water now. No more tank in the attic and I can't find any mercury to play with

Gas fired Energy Kinetics System 2000 installed in 2009

75 gallon domestic tank

Mostly original cast iron plumbing. PEX used in some renovated areas (Kitchen mostly)

23 cast iron radiators (mostly floor mounted with covers, but also 4 wall-mounted "X-rays")

1 cast iron sunrad baseboard

5 "indirect radiators" (ref: https://heatinghelp.com/systems-help-center/indirect-hot-water-heating-q-and-a/ )

Both B&G 100 pumps turn on with the thermostat

The problem:
Radiators are not getting hot at all. 95F according to my $10 amazon laser pointer

The 95F temp is consistent across all radiators, and both top and bottom of radiator

The supply's temp gauge reads 170F

The return's temp hovers around 120-130F (reading this from the System 2000 control panel)

Boiler never cycles

Somehow the thermostat is eventually satisfied, it's usually at 68F but I've had it at 69/70F too

Also, the expansion tank on this system was replaced for unknown reasons. It's now too small. Pressure reads more than 30PSI, and the relief valve is always dripping during the heating season

Last week I called the closest EK System 2000 tech and he improved the situation
The owner came on-site next day for about an hour.

He does not frequent these forums but I won't hold it against him. I'm looking forward to working with him more.

He decided to try something: Choked down a ball valve on the return - It was full open, now it is ~25% open

The boiler temp gauge went from original 170F to 200-210F

The return temp gauge went from original ~130F to 160-170F

The boiler started to cycle about 1-2 times per hour, after 2 minutes it kicks back on

Radiators went from original 95F to 115F. Better, but not fixed yet

The house feels much more comfortable

Choking the return valve any more will cause the boiler to short cycle

Since that initial tech visit, I've learned about primary secondary pumping, and that led me to a new discovery that may be of some use
For months, I couldn't understand how any of the near boiler piping worked

The mystery was solved last night once I discovered "primary secondary pumping". The supply and return are connected with a tee, and finally now I can understand how the water [is supposed to move] in my mind's eye. (ref: https://heatinghelp.com/systems-help-center/understanding-primary-secondary-pumping/ )

With my recent education on primary/secondary pumping, I don't think the heated water is making its way into the supply side of the secondary. (see photos). Maybe a Reverse Flow problem?

The system loop's return side right before the tee is 80-85F (see photos)

The system loop's supply side, right AFTER the tee, is also 80-85F (see photos)

The boiler loop's supply is reading 110-130F (see photos), so why is the system loop still 80-85F?

Yikes, that's a lot of info. Bullet points seemed like a good way to lay it all out.
Thanks everyone. Let me know what you think. I'm the HO and I can pass the info to the System 2000 tech.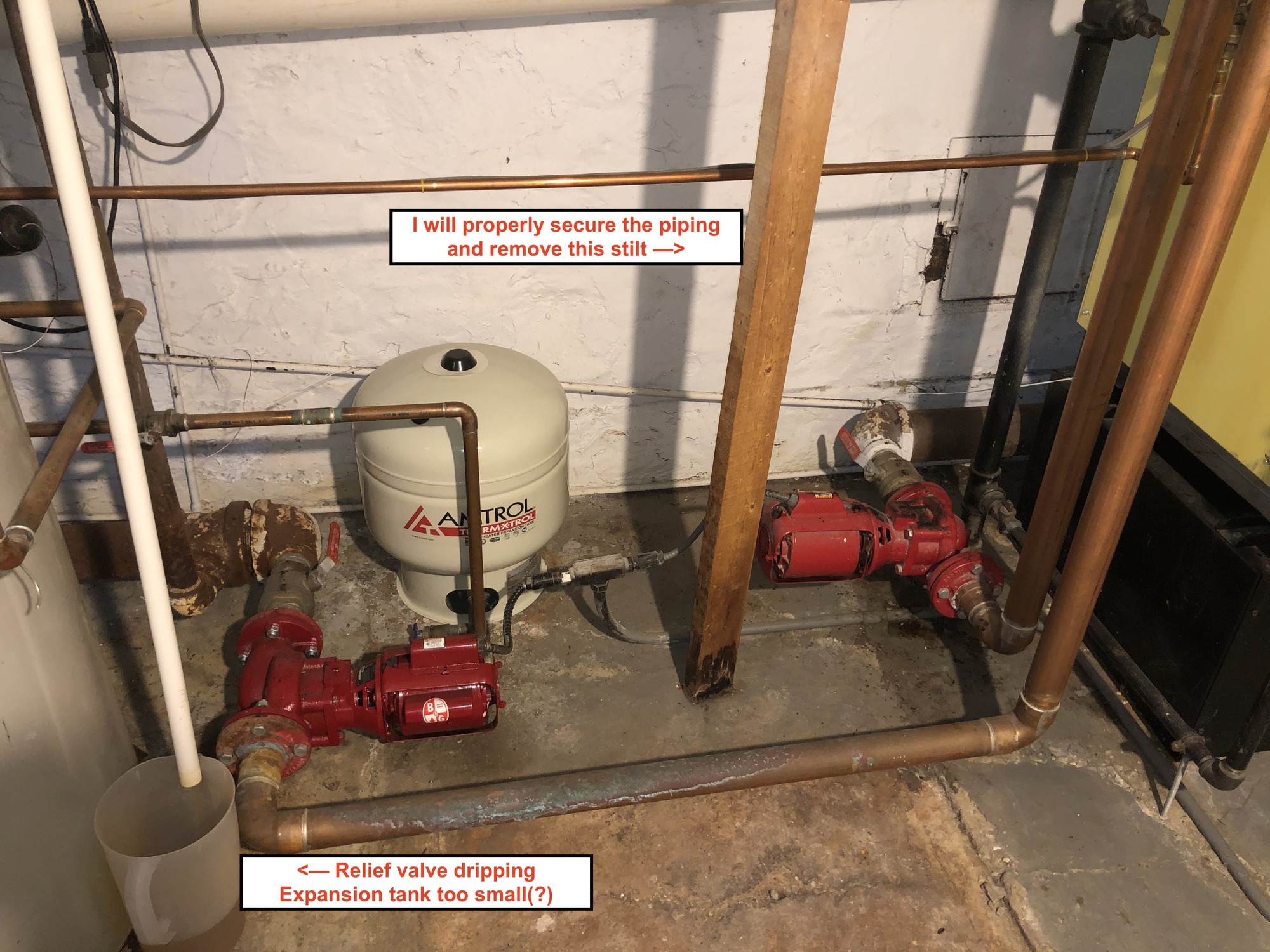 Comments