Welcome! Here are the website rules, as well as some tips for using this forum.

Replacing Ceiling mounted Thrush Compression Tank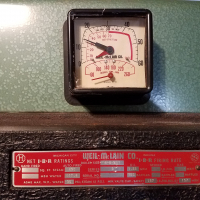 Two year lurker, first post.
100 year old house
Ornate Kewanee Boiler Co radiators
Large diameter gravity piping now conveying FHW
WM no 57 boiler
MidCo Economite nat gas burner
Thrush No 24 bladder-less compression tank in basement ceiling joist bay
One B&G red circ pump (NOT PUMPING AWAY)
Thrush tank developed a pinhole leak. Called the local Pro (well recommended, and has serviced this system before). He said "can't get a compression tank nowdays", will install a new bladder tank Monday. I got tired of mopping, drilled and tapped the pinhole, and screwed in a 1/8 NPT plug. Obviously not a long term fix, but I now have some time to think about my next step.
I see 3 paths available:
Have Pro install new style bladder expansion tank
Have Pro install new boiler
Ask Pro to order old style bladder-less compression tank (Thrush is still in business)
I like my current system. I wish I could buy a new one just like it. It has been heating this house with no problems for many years. The Dead Men got this one right. No big deal for me to drain the compression tank when needed.
I'm not trying to earn a "Green" merit badge. Nat Gas is cheap. We can't talk about price, but I'll bet the payback on a new system may be longer than that system would last.
This article from John Siegenthaler about converting to new-style bladder tanks says "DO PUMP AWAY".
https://www.hpacmag.com/features/expansion-tank-dos-and-donts/
Is pumping away more important with a new style bladder tank? I don't want to change to a new style tank, and then find out later I need to buy new pumps, filters, dirt mags, and labor to repipe to pump away.
My current tank is 12 x 48. Thrush makes bladder-less tanks, both code and non-code, in that size. The pictures show a vertical tank, but they use that picture for all their tanks. The drawing and specs seem to indicate a horizontal tank that would fit in my basement ceiling.
non-code
https://www.thrushco.com/430-024
Looking forward to your advice.
Thanks.
Comments