Welcome! Here are the website rules, as well as some tips for using this forum.

Thank you Steam Men! And a question about old heavy metal one-pipe steam radiators
First off, I want to give a big thank you to this forum and all the experts and good people who have contributed to helping the many home owners out there like me over the years. Five years ago, water seepage patterns started appearing in my 1st floor ceiling and the roofer said, "no, your roof is not leaking." Turns out a radiator on the 2nd floor was leaking. I had lived in the house for 15 years and didn't know the difference between hot water and steam heating. After talking to a knowledgeable plumber and reading Dan's book, I came upon this website for further education as I set out to refine my single-pipe steam heating system powered by a natural gas boiler. With the wisdom and patience of folks on the forum, I proceeded to lower the pressure, skim and blow down the boiler, replace clogged pigtail, insulate the overhead pipes, replace broken vents / valves / radiators, add vents to the main, install backflow stopper and undo countless previous errors by the unformed. see
https://forum.heatinghelp.com/discussion/comment/1334602#Comment_1334602
I spent about $1,000 on help from services of plumbers recommended by this forum and parts. My home heating experience was so much improved. The radiators ran quieter and much faster. Bedrooms that were chronically cold for years were toasty and comfy on the coldest winter days. I lived with the confidence of knowing how my heating system worked and the satisfaction of knowing that everything was circulating in the heating ecosystem as designed by the Dead Men. Five years on, I did the math and found that the work also paid off – when compared to my first 15 years in the house, over the last five years, I'm using 230 fewer therms of natural gas and saving $300 per year. So the investment has paid for itself.
Now on to Project No. 2. I recently bought an old house with an even older single-pipe steam heating system with a Weil McLain gas boiler. I'd like to think I bought the place just so I could work on a steam heating project! The first conundrum I've encountered is the radiators, which are older and heavier and take much longer to heat up.
Whereas the radiators at my first place (built in the 1940s) had thin metal fins lining three main tubes and the steam would race across these tubes and heat up the fins in a matter of seconds (above), the heavy iron radiators at the second place do not have fins, just a hunk of metal, and would remain half-hot, half-cold for a long time (as long as 10-15 minutes)(below).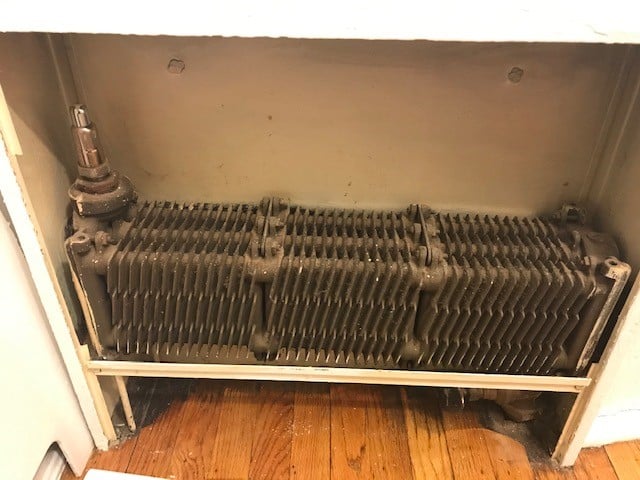 After the boiler fires up, the main vents would close in 7 minutes but the upstairs, some radiator vents would not close for 30 minutes or more. During this time, most radiators would be partially hot (even the ones with Vari-valve vents opened to the fullest). Is this normal? I'm thinking maybe all that extra metal absorb more heat so it takes more time for steam to heat up.
I noticed some of the radiator vents sit on bushings, others are screwed directly into the radiator itself. If there's no issue with drainage, is there a preferred approach as to the necessity of bushings under the vent?
FHills
Comments