Welcome! Here are the website rules, as well as some tips for using this forum.

"C"wire needed - convert from battery to wi-fi T-stat
I am hopeful to move and transition from a battery operated T-stat to a wi-fi enabled (Honeywell RTH-6580WF) T-stat. I have learned that the new T-stat's now require a "C" wire and I could use your help. Our home is a 2-story contemporary that we; (1) heat using an independent hot water (baseboard) Weill-McLain GV Gold boiler (6-zones) with TACO zone controller and; (2) cool using a separate A/C unit with air handler. I will need to run a wire to serve as "C" to supply constant 24vac to the new T-stat and the best place will be at the T-stat presently controlling heat and AC on the first floor, and that T-stat is directly above the boiler and easiest to achieve. Behind the the existing T-stat (see pic)
I located two cables, one (2-conductor) with RH and W running from the boiler TACO zone controller to the T-stat and one (3-conductor) with RC, Y and G running from the A/C air handler to the T-stat. I looked closely in the the air handler for wire markings but everything at that end are wire nutted together, a rat nest of wires and unmarked. At the TACO zone controller (see pic and diagram)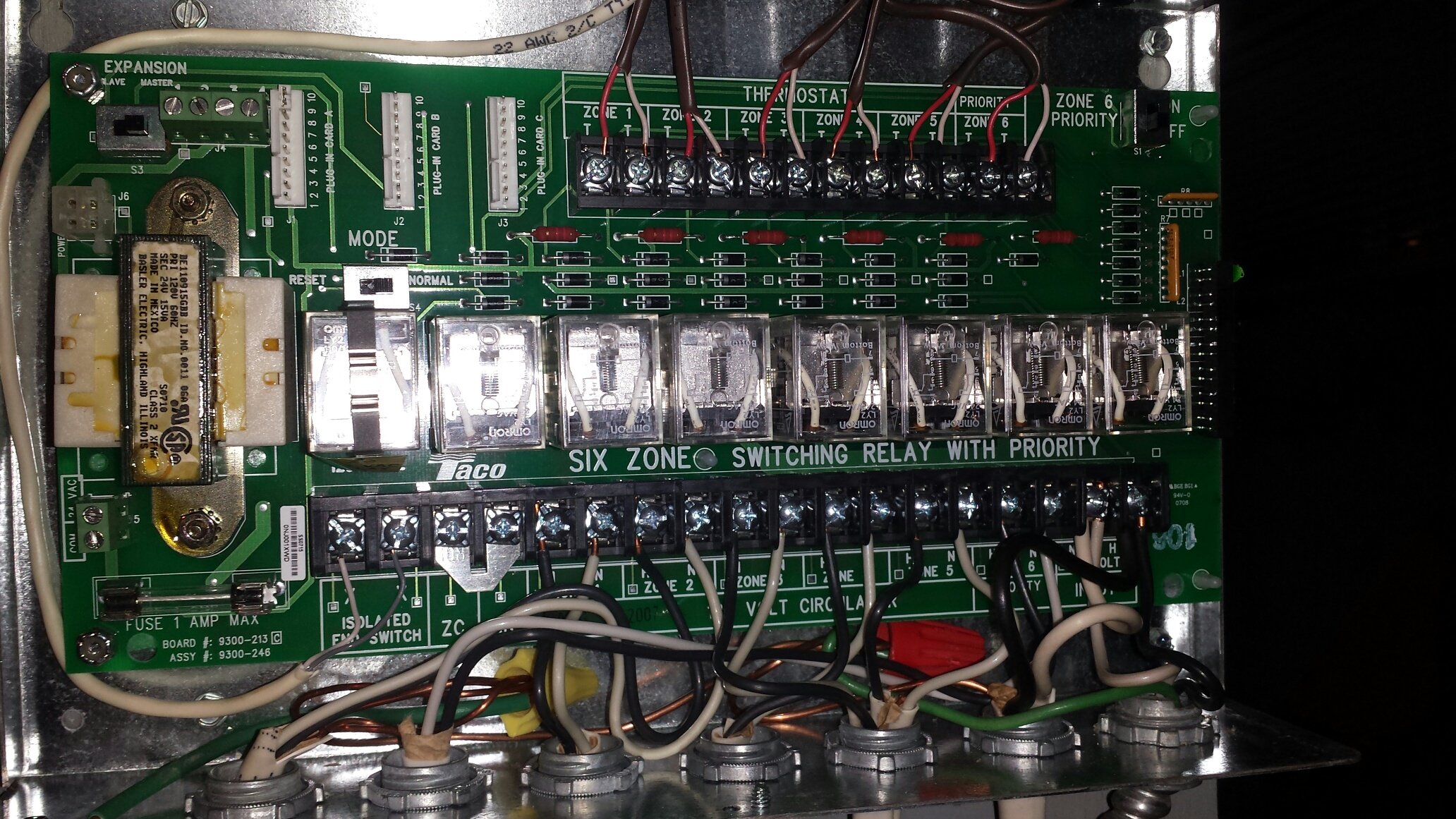 I can identify zone numbers (zone #1 in this case) and wire terminations on the controller board, I also located an open set of contacts marked with 24VAC/common on far left (see pic). So, my help question is: Can I run a single conductor between the COM terminal on the circuit board "common" to the T-stat "C" terminal and that will power the new T-stat requiring "C"? If so, coming from the control board (zone 1 with RH and W) to the T-stat plus the additional new run wire (from the COM terminal) would be the easiest to achieve. Thank you for your anticipated help and assistance.
Comments