Welcome! Here are the website rules, as well as some tips for using this forum.

This week in oil heat fun.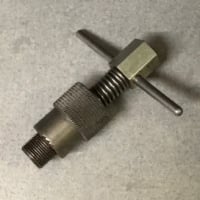 First set of pics. Heater in a low basement, horizontal unit jammed right up against the interior chimney so you couldn't completely swing the the transformer open. Open return. Not cleaned in 12 years. They smelled oil/soot in the house. Chimney failing, took out a 5 gallon bucket of debis in the chimney. Gonna need at least a liner.
Second set of pics, emergency oil tank replacement:
What do you mean my heat exchanger is cracked? 40 year old, oil-fired downflow Ruud, in a closet, no return duct, no combustion air provided. This was the combustion analysis after the blower kicked on:
steve
Comments