Welcome! Here are the website rules, as well as some tips for using this forum.

The Perfect Scenario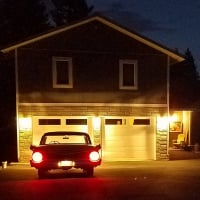 Got a no heat call yesterday. This is an office building with several medium sized air handlers which incorporate a DX cooling coil, a water heating coil, a floating valve, damper actuators, etc. There is also high output baseboard radiation configured as the third (unoccupied) stage heat.

A couple of air handlers jammed above a suspended ceiling in the file room, notice a tile which is discolored from water. That's normal anyway right? Keep in mind it's in the mid 30s outside and we have been out of the A/C season for about a month. I notice the TXV and suction line covered in frost.....uh huh, stike 1! No blower running, strike two. Remove some air filters to discover the heating coil enveloped in frost too, stike 3!

The valve is full open calling for full flow of hot water but everything is cold. A trip to the boiler room reavals a hot boiler and noisy circulators. The gauge shows 0psi. Water feeder valve open.

Feeder valve was clogged, condenser contactor (on roof) was welded and when the building went into unoccupied mode the blower shut down. Freeze stat prevented any further blower operation, and the coil froze and busted. Since the feeder was clogged most of the water went down the condensate pan and that was that.

All because an el-cheapo contactor.

I know what I'll be doing in the near future... lots and lots of file cabinets will need to be relocated and much of the ceiling will need to be removed as there is about an inch of clearance amidst shoehorned ductwork.

Sorry just had to rant a bit. At least there is baseboard, which is left over from the original installation before A/C was added.
Serving Northern Maine HVAC & Controls. I burn wood, it smells good!
Comments