Welcome! Here are the website rules, as well as some tips for using this forum.

VisionPRO 8000 Options....
Happy post Christmas everyone!
After reading many positive reviews, going to try using a Vision Pro TH8320WF thermostat for my upstairs zone where we use a couple deg nighttime setback for sleeping comfort.
Have a couple of questions regarding the install options....
Boiler: HTP UFT80-W mod-con
Vision Pro controlled zone: Four upstairs bedrooms plus full bath, all fin-tube baseboard.
Question #1:
Function 0240 "
Heating Cycle Rate
"...
The install manual indicates using 3 Cycles/hr for "Hot water or high efficiency furnace (more than 90% efficiency). Well the UFT80-W certainly is a 90%+ efficiency mod-con... but it sometimes runs for an hour or three satisfying a call for heat. Does that "3 Cycles/hr" setting effect anything during a prolonged call for heat (imagine a two hour call)? Should I use something other than the recommended cycle/hr setting?
Question #2:
Function 0530 "
Adaptive Intelligent Recovery
"...
I plan to enable it so I can have the setpoint met at 6:30am every morning. As I understand it, the t-stat "learns" how long it takes to reach setpoint and starts runtime based on that. Since it could be 5F or 45F outdoors and my boiler will be supplying 150F water or possibly 110F water (due to it's ODR sensor), recovery time will vary based on outside temps and varying heatloss right?
How does the tstat "learn" recovery time with varying SWT and varying outdoor temps?
Do I need to install it's optional Outdoor Temp Sensor so it can use outdoor temps in it's calculations?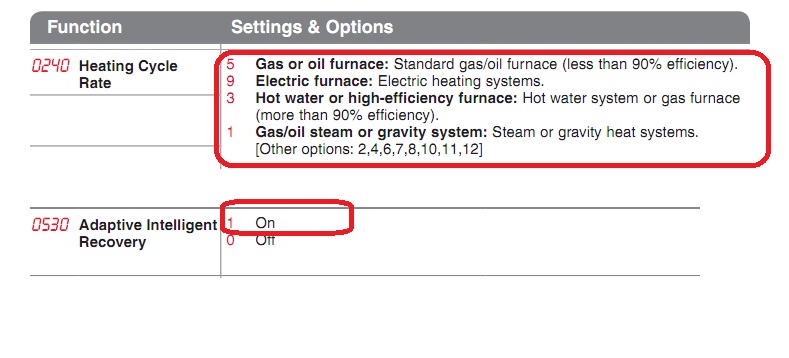 .
.
.
.
Just remembered, two more quick questions....
Is 0347 "
Droop Temperature Steady State
" the equivalent of "Differential" setting on conventional t-stats?
Is 0680 "
Heat Temperature Control
" the equivalent of "Anticipator" setting on mechanical t-stats?

Thanks in advance for any assistance!
Comments