Welcome! Here are the website rules, as well as some tips for using this forum.

Oil Space Heater - Whining sound (example in link)
Hi all!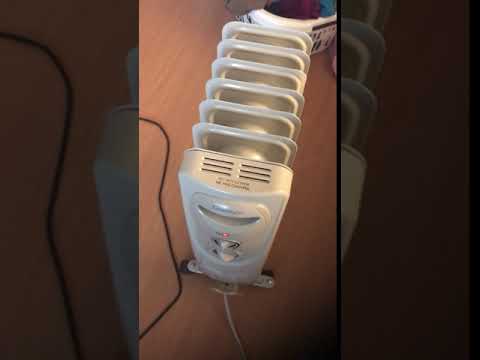 I had gotten this heater off of Kijiji, as I have an upstairs room that is very cold (if the overall house heat is turned up any more, the people in the basement can't sleep because it's too hot). It affects my sleep and I have birds so they need it warmer too.
I ran it essentially 24/7 on a moderate setting for a few weeks and it worked great. Added the few extra degrees I needed for the room to be cool yet comfortable. Now there is this whining noise when the heater turns on. Sometimes it lasts only a few seconds, other times it goes on a bit longer like here. I haven't been wanting to use it until I know what the issue is as it makes me anxious.
I will also ashamedly have to admit that when I first got it, the lower knob wouldn't turn. I was wondering if it was just cold from use, but I was anxious and tired of being cold so I grabbed some pliers and forced it to turn. There was a clunking noise, like something fell down inside, but the knob was fine after that and there were no issues with the heater for the few weeks I used it after that. I have also been contemplating opening it up to see if it's all ok inside or not.
So my questions are:
1. What is the whining noise?
2. What can I do about it?
3. Is it still safe to operate?
4. Is it worth opening up the front panel to check that everything looks to be in order?
Thanks!
Comments