Welcome! Here are the website rules, as well as some tips for using this forum.

Laars Endurance ebp110 adding mixing valve
Hi All,
I am primary secondary piping a Laars endurance 110 as per the below diagram. Since the internal circulator will be used as the primary pump could I install the expansion tank, air eliminator and mixing valve the same as the picture or not? I would have to install air elim/and expansion tank on the return piping since that is the closest I could get to the suction side of the circulator and then add the mixing valve to the supply pipe?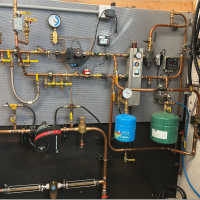 Comments